written by

Ioana Mihala
With all that is going on in the world, It is easy to understand why the guilt of flying weighs heavily on one's mind when it comes to travelling for pleasure. So, for those of us, which I'm sure is most of us, how can we continue pursuing our passion without having such a negative effect on the environment? This guide draws up a list of alternatives to help you travel without flying.
Choosing your more sustainable mode of transport
Aviation currently accounts for almost 3% of the total global emissions and is expected to increase in the next years.
Planes are followed by cars and then buses in terms of emissions. The numbers differ according to the type of energy they use (fuel or electrical), the size, and the number of passengers. If you travel in a bus where most seats are filled, you will lower your carbon footprint than if you drive alone in your car because while the bus itself has higher emissions, these will be then divided between all the passengers.
Want to know a particular flight's emissions? Use this flight carbon footprint calculator.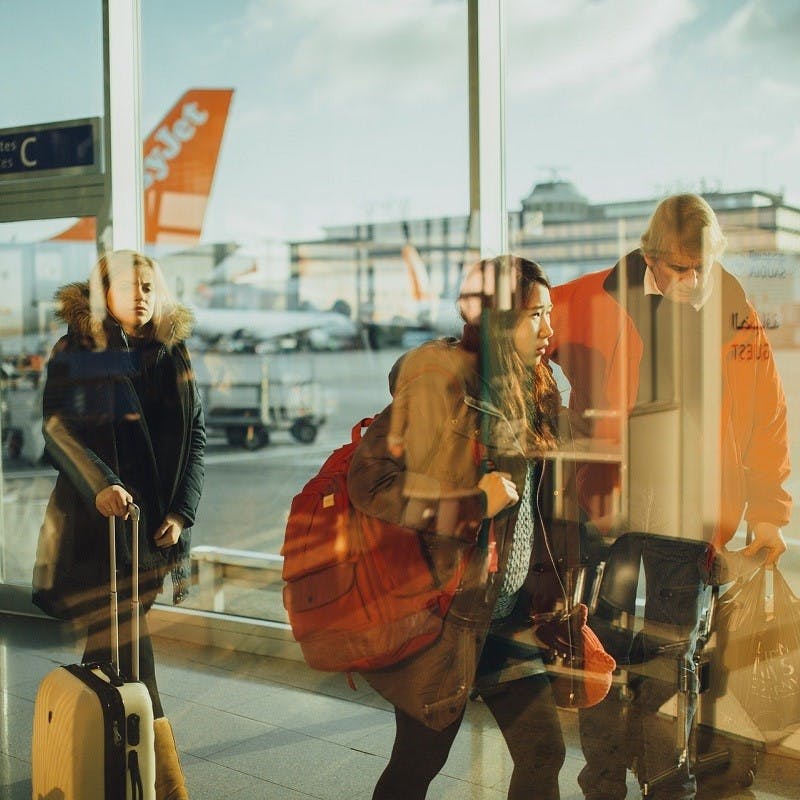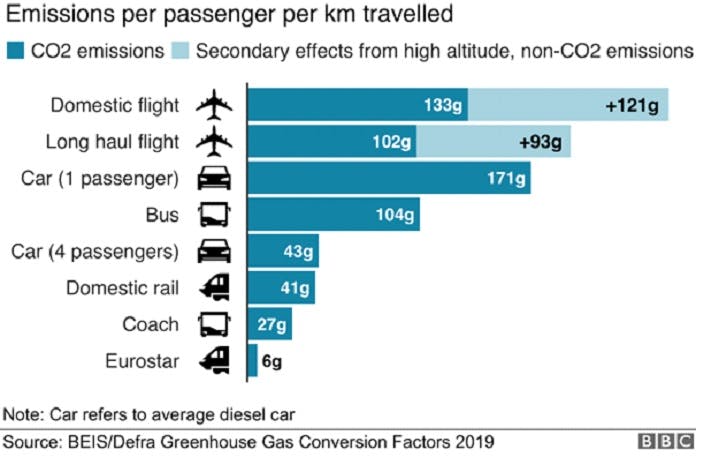 Trains have the lowest impact, especially in Europe where almost 60% of the rail network is electrified, including most international lines (Eurostar, EuroCity, Railjet, TGV etc.) If you already have a trip in mind, you can check EcoPassenger, a tool developed by the International Railways Union in cooperation with the European Environment Agency, which compares the energy consumption, the CO2 emissions and other environmental impacts for planes, cars and trains and includes train schedules.
In terms of prices, even though there are many cheap flights nowadays, a study in 2015 looked at over 700 booking cases in Europe, both domestic and international, and found out that in 80% of the cases train travel is cheaper than flying. Train companies often offer good discounts especially when travelling in groups/with family and you can take most luggage with you for free. Furthermore, you get the same price, sometimes even a discount, when booking short notice. Results of the study also showed that bus travel is the cheapest mode, the disadvantage being however that the travel time is significantly longer than by train or plane.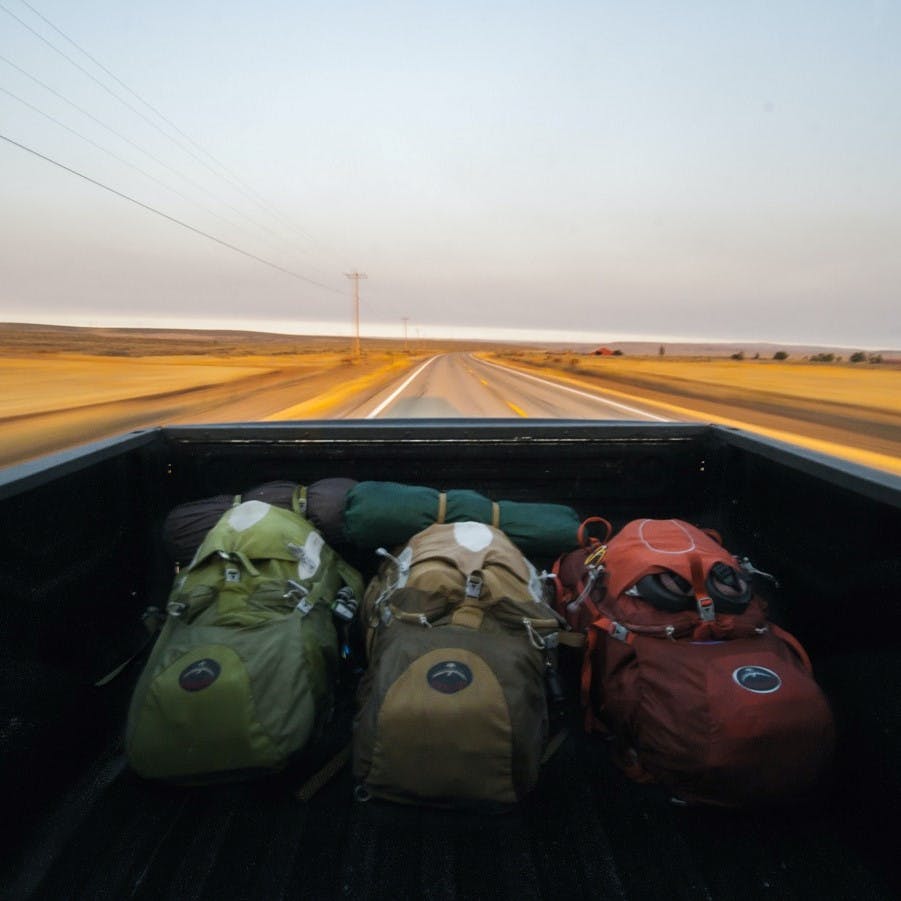 #Trainbragging
As discussed, trains are the most sustainable way to travel without flying in Europe, having the lowest emissions. Moreover, all the facilities in the international trains make the travel that more enjoyable: restaurant, sleeping cabins, toilets, charging ports, and even WiFi. There is no check-in, enough space to move around, and the most important: you get to see all the beautiful landscapes you pass on your way to your destination.
We compiled a few websites/apps to help you plan your next train trip easier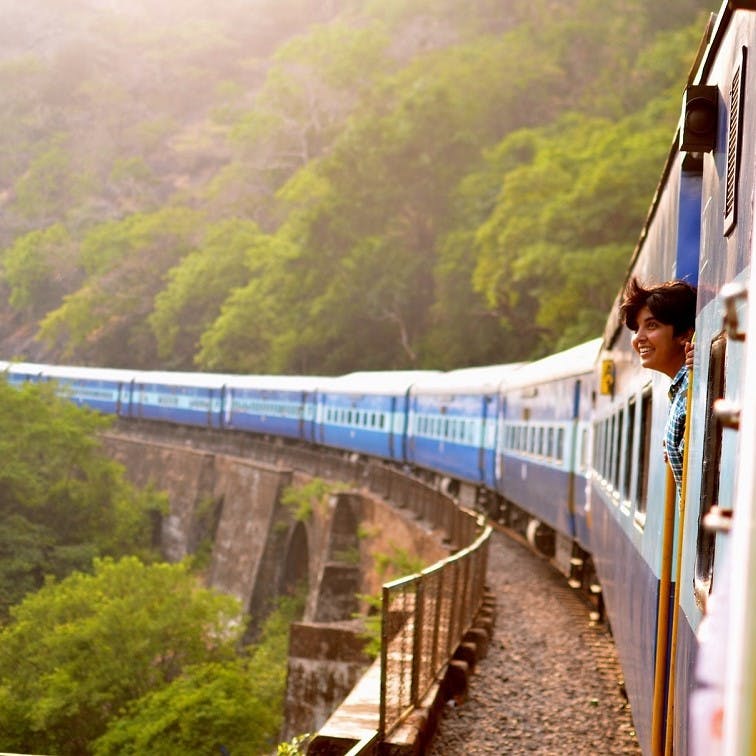 Take the bus
Despite the longer journeys if you are serious about travelling without flying, then buses are not to be overlooked as a good form of sustainable travel.
If you are looking for the cheapest way to travel and don't mind a bit more space confinement, then you can also take a bus to reach your destination. Flixbus is the largest bus network in Europe, offering both domestic and international connections between most cities on the continent. Furthermore, they have efficient buses in terms of fuel and offer the possibility to compensate your emissions when booking the ticket. This German company has also announced their plans to introduce the first hydrogen fuel cell coaches in the future to better provide more eco friendly travel options.
As an avid traveller myself, I opted for bus journeys to get across South America and was pleasantly surprised at how comfortable the overnight coaches were and amazed at having onboard free WIFI access deep in the Andes! Be sure to pack wisely, snacks and water are essentials and other handy items include a travel pillow and blanket (if not supplied), earplugs, and a good read. See these recommendations by country that will get you in the mood to dive into the local culture and enrichen your experience.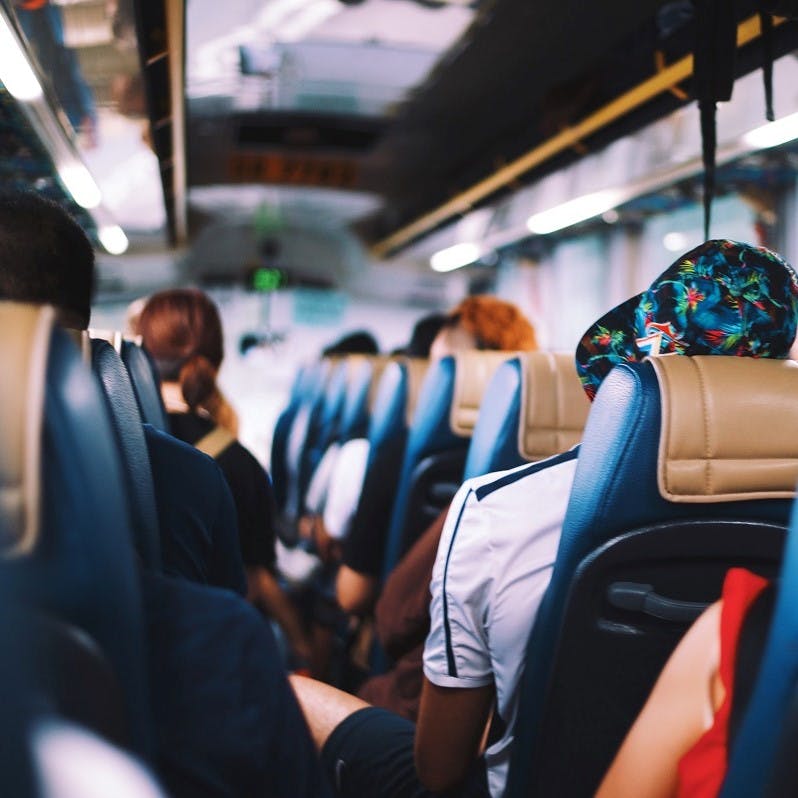 Take action now
Do you want to have a direct impact on climate change? Sir David Attenborough said the best thing we can do is to rewild the planet. So we run reforestation and rewilding programs across the globe to restore wild ecosystems and capture carbon.
Get involved
Car share
Obviously travelling by car gives you a good degree of flexibility with your travel without flying plans, although as per the UNWTO "compared to the "most efficient" flights in terms of emissions, car activity can sometimes produce similar or even higher CO2 emissions per PKM."
However, it's worth considering that the more people in the car, the less carbon emissions per passenger. The best known long distance carpooling service is Blablacar, here you can either find people that want to share their ride or you can also offer seats in your car, if you are the one driving. Alternative, there are also different car sharing groups on Facebook - e.g. if you are a surfer and want to find a ride for you and your board to the waves in France, Spain or Portugal you can check the group "Surftravellers".
If you want to take your travel without flying adventure up a notch or are just stranded in a place with little money you could also try hitchhiking. On Hitchwiki you will find all the information you need, which countries/cities are "hitchhike friendly", the best spots to wait for a ride etc. – Not just eco friendly travel but high octane adventure travel!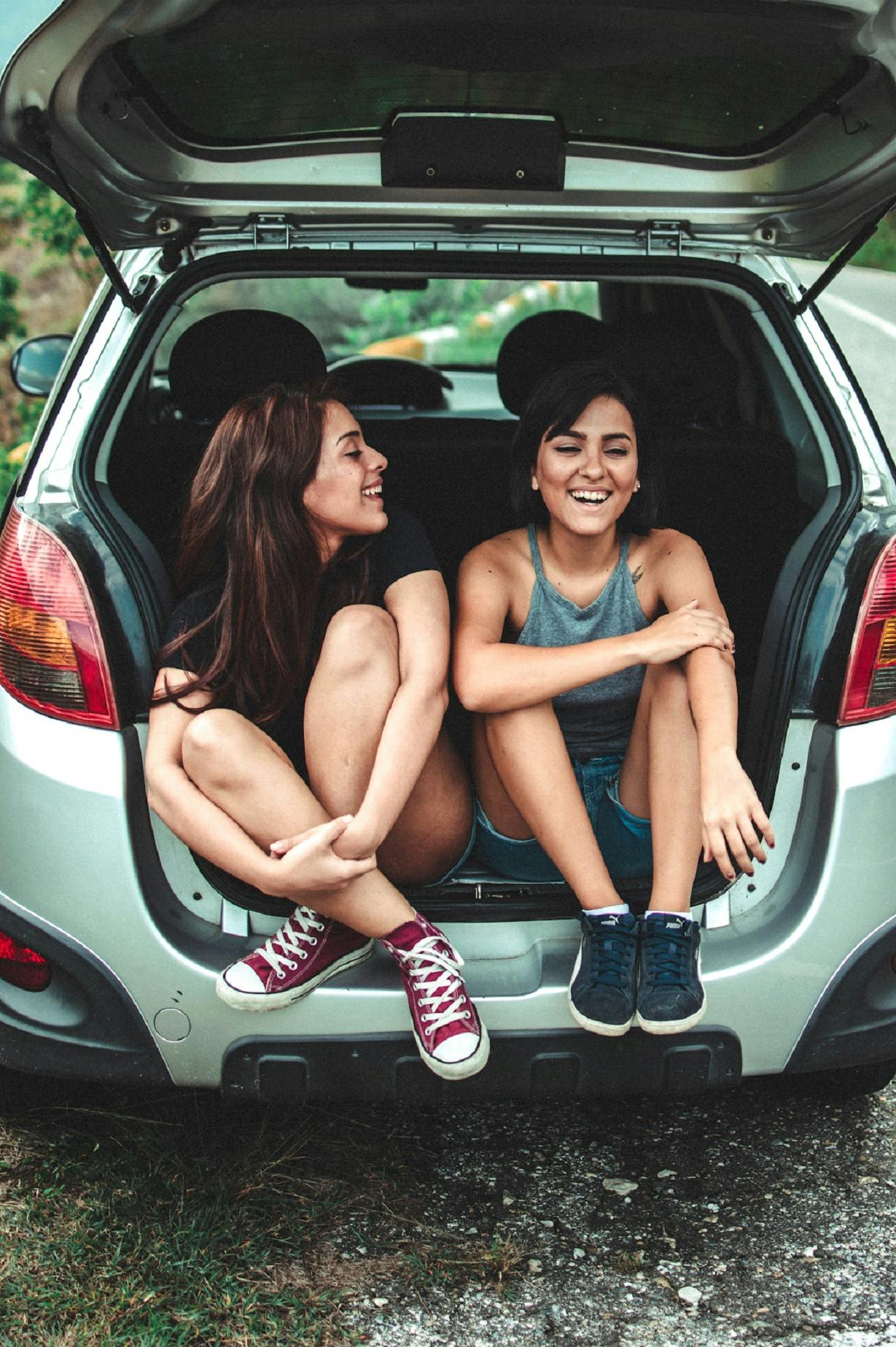 Cycle to your destination
For those of you with good endurance, trained muscles and a love for the outdoors, a cycling holiday is the epitome of eco friendly travel and could be the next adventure. Europe has a lot of designated bike routes, which you can check out on Eurovelo. Besides getting the chance to slow down and really experience the beauty of places you might otherwise not visit, you also get to travel emissions free! If this sounds like your type of trip, here is a checklist and list of apps to help you get ready for a bike tour. Or for more inspiration check out our sustainable travelling podcast with the guys from 6wheels who embarked on a zero emissions cycling adventure from France to Asia.
If you need a break from the saddle, then why not combine your modes of travel by hopping on a train to do a stretch of the journey or vice versa, get off a train and rent a bike to explore the area. Remember to find out about local rules for taking bikes on trains as you might need a ticket or are only allowed to take them on outside of rush hours.
You can also listen to this and other episodes on a variety of podcast platforms including Spotify, Overcast, and Podchaser.
A review of travel booking engines and route planners
To travel without flying doesn't need to pose you with a minefield of research and planning before you set off. Thanks to some efficient booking engines and route planners you can save time, money, and energy discovering the best way to get to your destination without stepping foot on a plane. Here are some key features of the most popular booking engines and planners out there.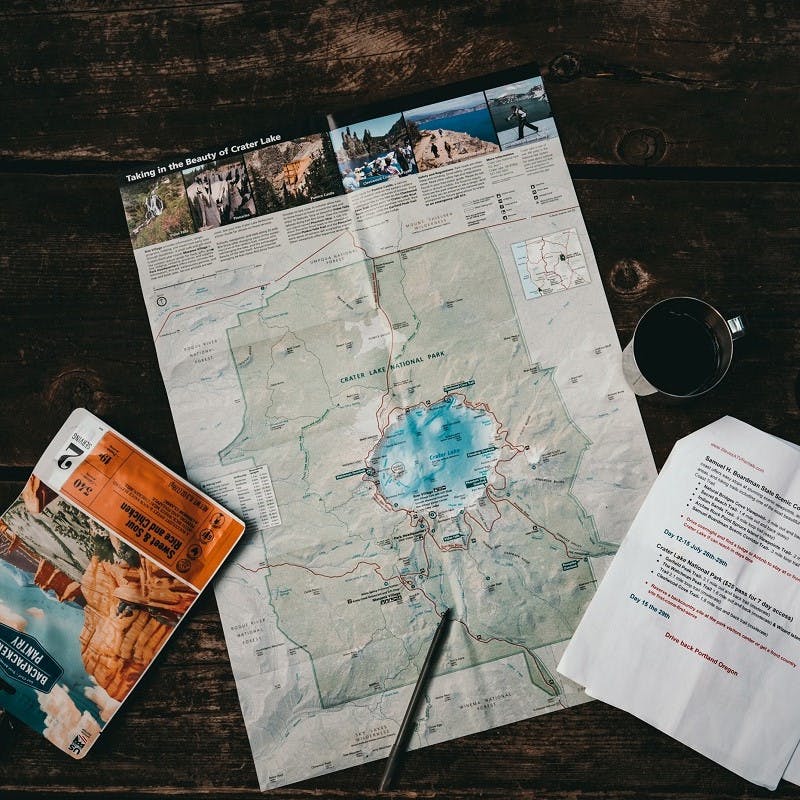 ---
It is good to have an end to journey towards; but it is the journey that matters, in the end.

Ursula K. Le Guin
---
Rome2rio
Whether you're planning to get to a major destination or a remote island tucked away in the tropics, Rome2rio has an impressive source of travel information to access. This one-stop shop can help you book your trip using multiple non-flying transport options including trains, coaches, buses, cars, carsharing, ferries, trams and taxis. Estimated travel times and costs are displayed in a user-friendly format allowing you to explore different scenarios of how to get from 'door to door' for over 150 places around the globe, including specific addresses and landmarks. Extras features include photos, transport company information, recommended accommodation, trip overviews with FAQs, an app ideal for during the journey, timetables, and real-time bus schedules. Fees are minimal and only applicable to tickets that are booked directly via Rome2rio. Customer feedback boasts Rome2rio as a great search engine to discover the best deals on train tickets in Europe.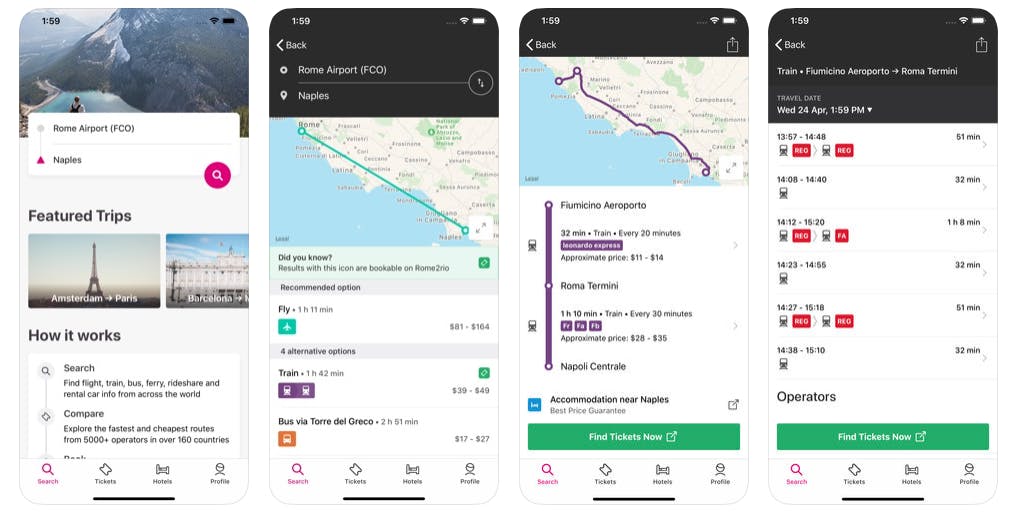 Omio
For travel in European, Canada and the U.S, Omio (formerly GoEuro) is another great engine that does the legwork of your planning.  Avoiding flight shame is made easier by Omio, it is remarkable at comparing lists of itineraries using trains, buses, ferries and cars with a focus on the cheapest and fastest way to get there. They have established partnerships with hundreds of travel operators meaning you don't have the hassle of trawling through individual operator's websites to search for tickets. If your journey is reserved directly with Omio, they are the intermediary and you only need to deal with them.
As with all travel bookings, be sure to check the terms and conditions so you are in the know if you need a refund, to alter your plans or are required to redeem tickets somewhere prior to departure. Take note that there will also be gaps on the map which travel booking engines haven't connected yet. For instance, one of the top ten most visited global locations, Turkey, is yet to be covered by Omio and there may be others that have limited cover. Therefore, don't assume overland transport isn't available if your search doesn't return successful results, cross check with other comparison sites, and dig a bit deeper. Nevertheless, gone are the days of lugging a mini library of travel guides in your luggage and dealing with expensive travel agents, travel booking engines bundle all this onto your phone with plenty of other added benefits. Undoubtedly, they are an essential tool to equip yourself with whilst on the road.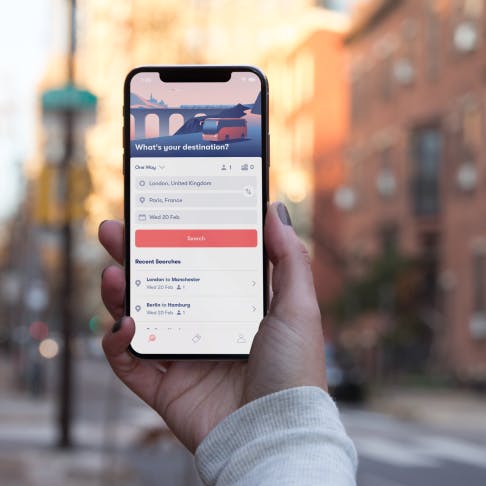 Wanderu
Considered one of the best for coverage of North American, but also covers Europe. Wanderu scans and compares all major bus and train companies as well as a good range of other discounted fares on smaller operators, without charging their own fees. Additionally, there is an online chat box for instant enquiries and also plenty of interesting blogs that aim to inspire all kinds of explorers, from those on a budget to the intrepid travellers, there's even a selection of virtual tours if you want to experience the location carbon-free from your home!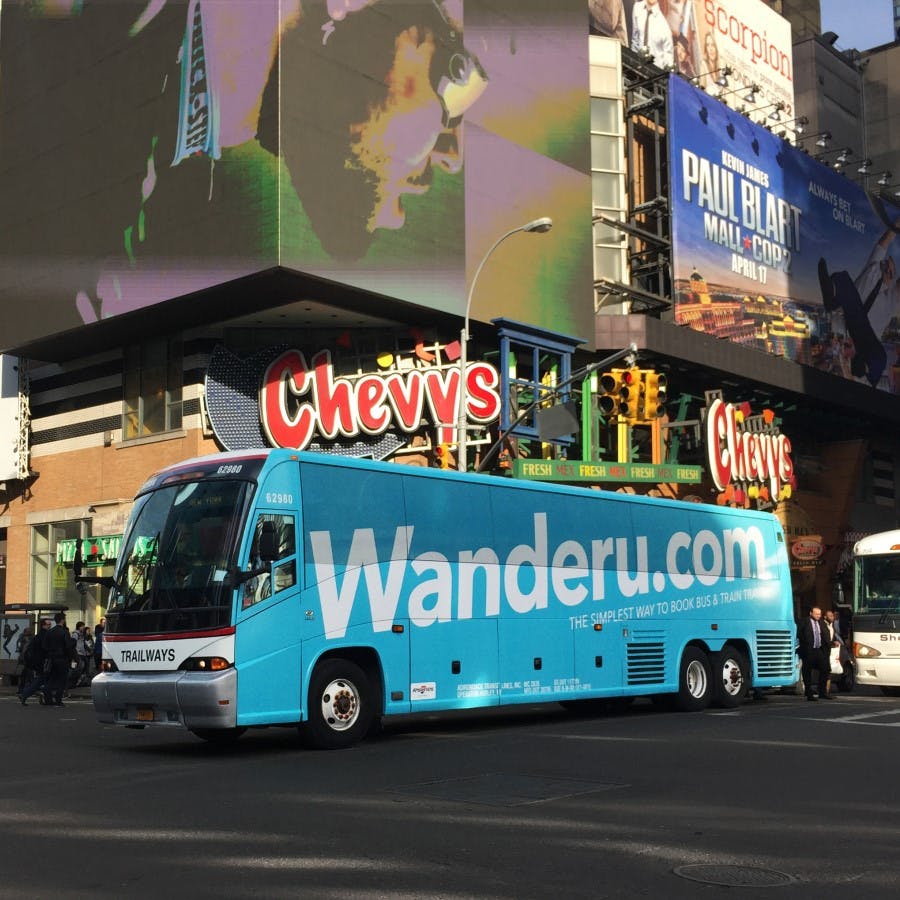 Can you travel the world without flying?
You might think giving up flying and choosing sustainable travel instead means you can't travel the world, but with some effective planning and determination this is a route you can successfully go down. If you want to follow the path of those who have achieved this feat, here is some of their advice to take on board.
Plan your route and crossing
If you opt to jump aboard a cargo ship and piggyback on their hefty emissions, you will need to book well in advance. There are also cruise ships, but they are notorious polluters. Finding a sailboat to hitch a ride with is a more sustainable option, Findacrew connects seafarers on voyages around the globe. Finally, making sure you choose border crossings carefully prior to departing is also wise as some are only open to flights.
Check visa requirements
Avoid the nightmare scenario of being stuck at a border without the correct paperwork by doing your research beforehand or using a service such as iVisa.
Have realistic expectations of travelling time and costs
Be prepared for longer journeys, higher costs, and to be flexible with your plans. On the plus side, despite lagging behind those who fly, you will have the chance to literately be stopped in your tracks and take in sights, smells, sounds and tastes to savour.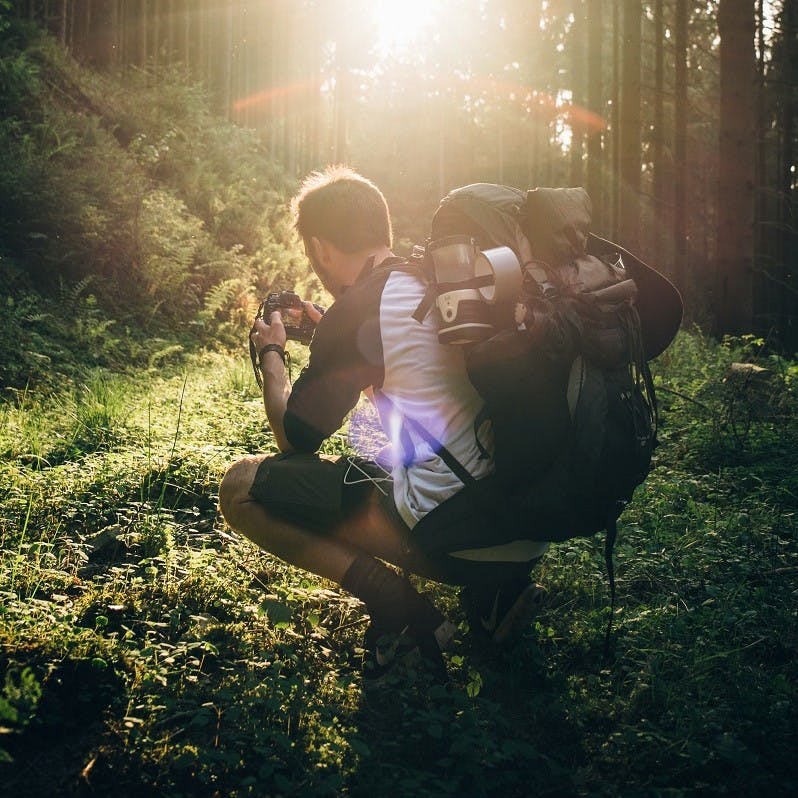 How to travel without flying

Choose trains over planes, wherever possible or until a less carbon intensive form of aviation arrives.

Take advantage of the benefits of travel booking engines and other travel apps.

Don't discount local destinations as a holiday choice. Discovering hidden gems on our doorstep can be more rewarding for you and the environment.

Setting the example really works! In a survey, up to half the respondents gave up flying or two thirds changed their attitude as a result of knowing someone who has quit flying.

Embrace the true essence of travelling by adopting the Slow Travel concept.

Compare the emissions for all means of transportation and if possible, choose the most energy efficient.

Enjoy your travel, explore the world and don't forget - it's not about the destination, it's about the journey :)
Sources & further reading
"The world's most amazing train journeys."

- Lonely Planet

"Be Inspired"

- Flight Free UK