written by

Natalie Fox
Reading time: 5min
Table of contents
"Van life" is becoming increasingly trendy. A part of the tiny house movement; people are packing up their lives and hitting the road, choosing to live out their days in a rolling home.
For some people, this may be driven by a desire for financial freedom, a smaller carbon footprint, or a simpler life that is less materialistic. Whatever social, economic, or ecological reasons lie behind committing to van life; it is not as simple as social media portrays. Check out our following hacks to get you up to speed with the reality of life on 4 wheels.
What's Your Intention For Van life?
"Why?" and "For how long?" are two essential places to begin before embarking on van life. Only you can answer those questions. Check out Expedition Happiness – a documentary about a young German couple who set off on their van life dream across North America only to find that they missed their family and home comforts (including caring for their very large dog), and end up heading back to Europe earlier than expected. Be aware that if you're considering van life to "fix" a problem; it may create more in the process.
There are conflicts and dilemmas within any action and being clear about what you want to get out of the experience could be integral to your sanity. It also makes the next step much easier.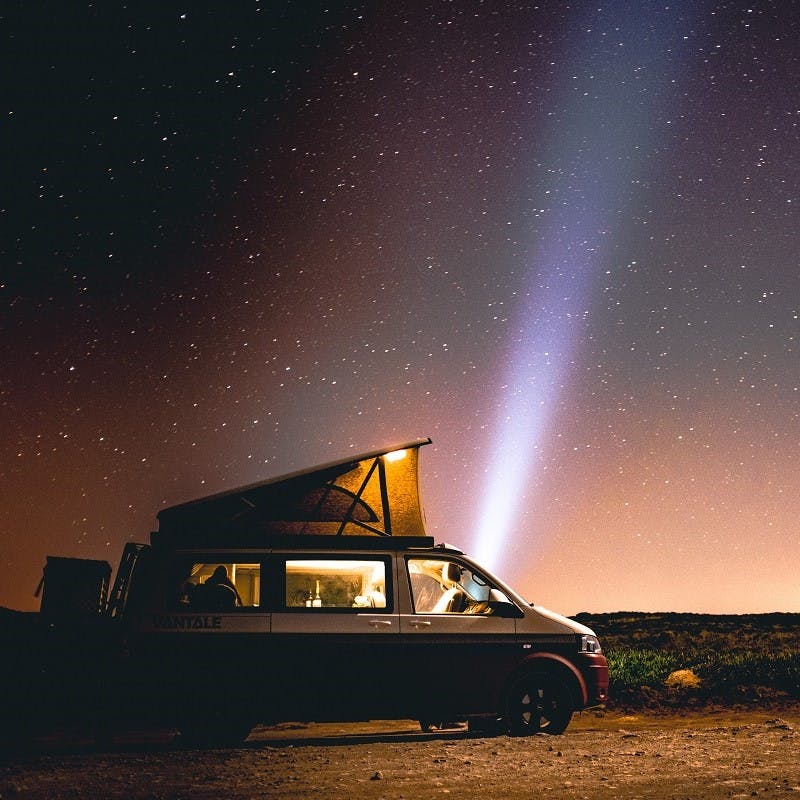 Research
Once you know your "why" and "how long" you can start to look into what type of van situation would serve your needs. Maybe you just want to have more time, but without leaving the security of your job so a 2 month sabbatical in a rental would work. Perhaps a one week holiday with Quirky Campers is more your style. Or it could be that you're ready and eager for a bigger lifestyle shift. Find people who have blazed the same path and learn from them, there are plenty of van life community members sharing their stories.
Remember this is van LIFE, so research whether it's possible to transition into your van where you are, or you may need to move to somewhere more suitable. Think about climate, terrain, facilities, community, work, provisions, and don't just get sucked into pretty pictures and starting a Pinterest board. Although that works well for inspiration too!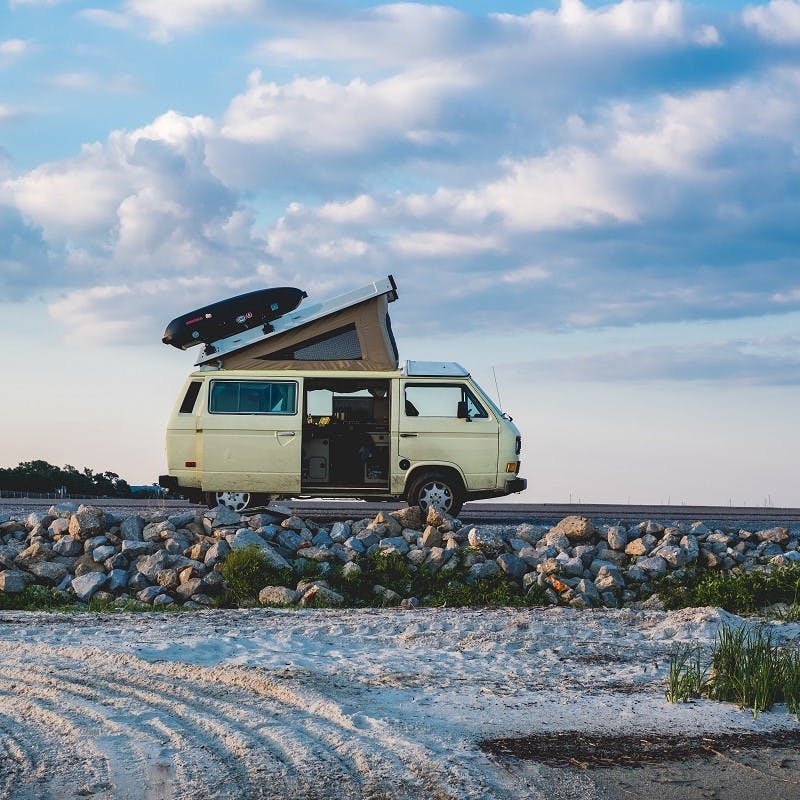 Start Incrementally
If you've never slept in a van before, that might be a good place to start. Sleep is integral to our wellbeing so if you don't manage to snooze comfortably, van life will lose its shine pretty quickly. Are you able to function in small spaces and feel confident at the wheel of something larger than a mini? You don't have to go from zero to a hundred in one step, in fact, that's usually quite stressful. Give yourself time and space to get used to van life, you can always work your way up.
Figure out the "non negotiables" that will build the foundations of your physical van existence. For me; it was a queen-sized memory foam mattress, homely feel, and plenty of space for surfboards.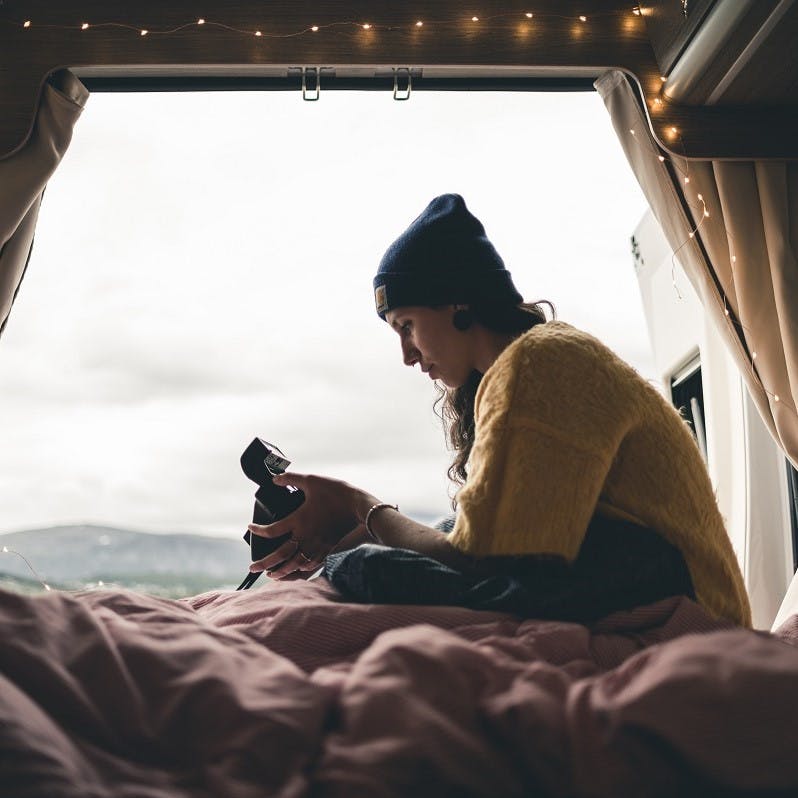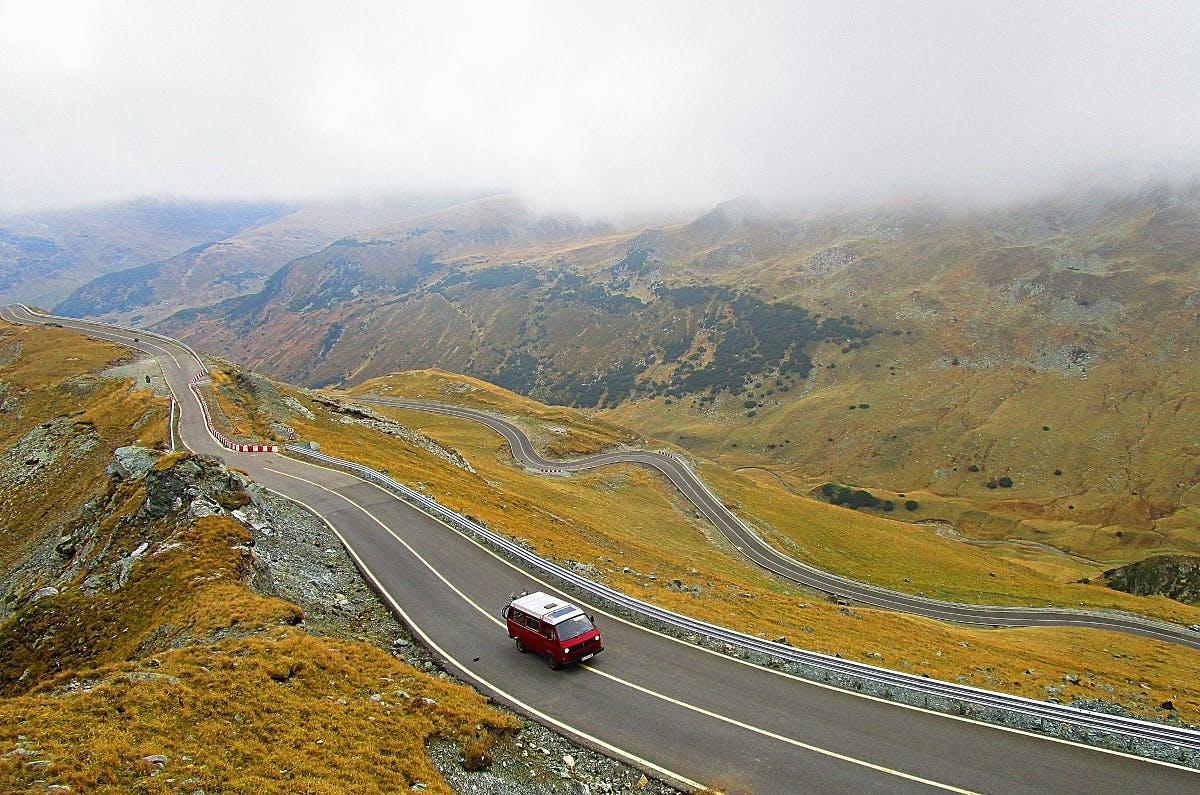 The Cost of Van life
The financials come down to a) purchasing b) converting and c) running costs, all of which need a source; so be prepared for some serious outlays. Old vans may look cool and retro but their maintenance costs could soon stack up. New vans will be more reliable but the initial investment will be much higher. With all used vans, better to know the owner and have access to a full service history, but it still won't account for hidden costs. Always have an emergency fund, in case of well, emergencies. It will be your home after all, any windows or problems with the locks cannot be left for later. Think about the kind of space you need; layout, windows, storage, and of course how much is your budget. For an idea of vans in your area check out Preloved.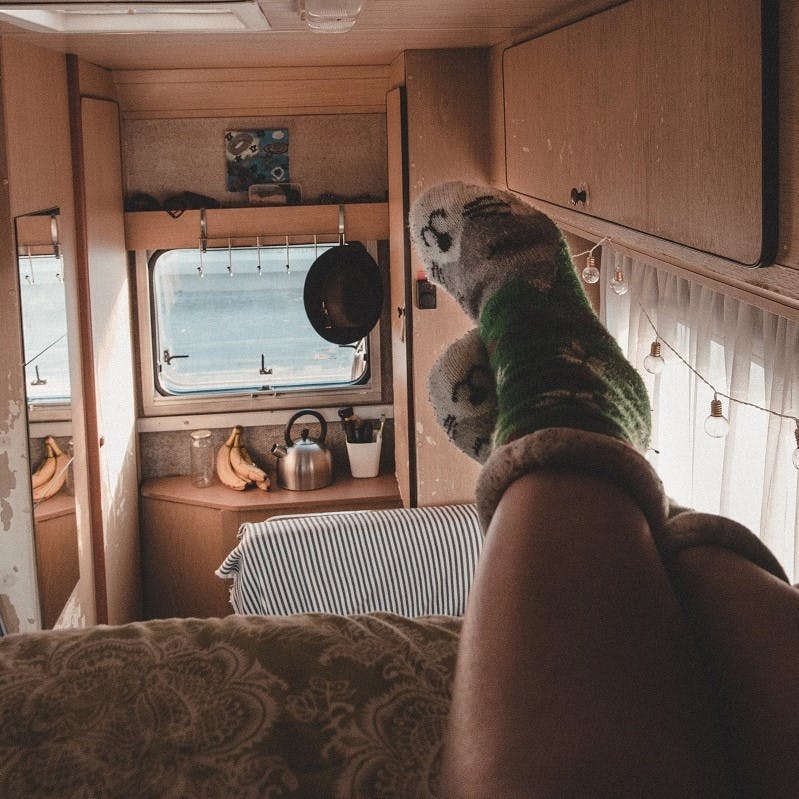 Take action now
Do you want to have a direct impact on climate change? Sir David Attenborough said the best thing we can do is to rewild the planet. So we run reforestation and rewilding programs across the globe to restore wild ecosystems and capture carbon.
Get involved
Conversion
If you want to do a conversion on the cheap, just do it yourself. It's possible to source materials from the scrapyard, second hand stores, and charity shops. Reusing and repurposing materials intercepts them heading to landfill, which is much better for the planet.
A great resource is Van Dog Traveller. Mike Hudson who has written "From van to home" explaining every part of converting a second hand LDV van into a mobile cabin. Nate Murphy's youtube channel has various nuggets of information including "How to convert a van into an off-grid camper in 17 days". From someone who has converted their first van with no skills whatsoever: it's fun and empowering, and way more satisfying than paying for a conversion. However, you need the tools, time, space, and support to make it a job that doesn't put you off vans for life.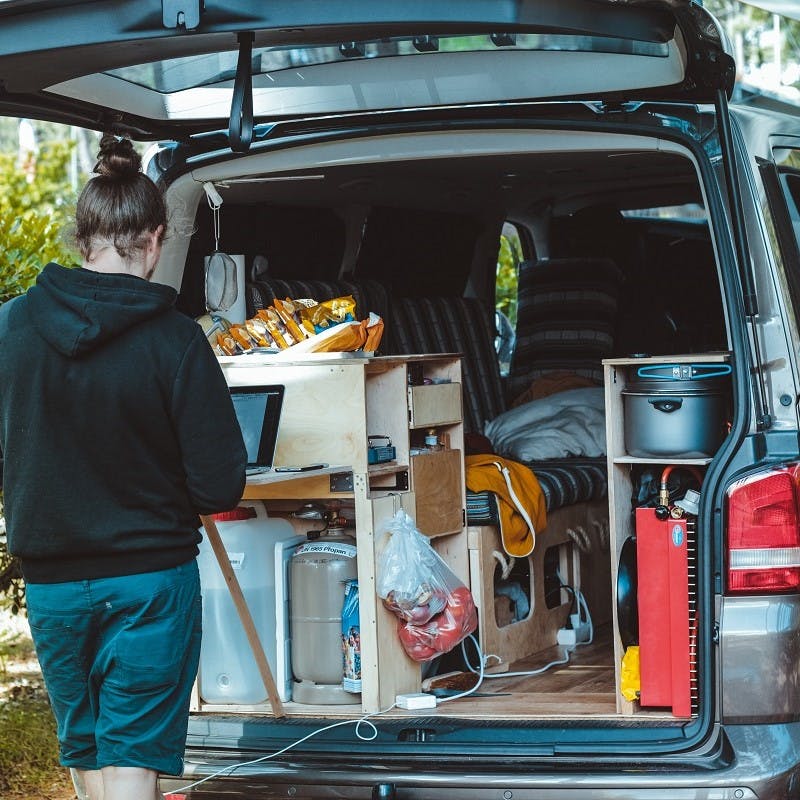 Fuel
Even if you are reducing your carbon footprint by moving into a van and eliminating your commute, you will still need to get around. Most vans will take diesel, which is expensive and pollutes so it might be worth using the premium if there's a potential to increase reliability as well as it having special detergents. If you want to go full green, check out Electric Campervans who convert classic VW's into 100% electric powered engines.
If it's impossible to switch your fuel option but you would like to be more aware of your emissions, why not start by keeping a fuel audit. Once you know your average fuel expenditure, you can cut pointless journeys out as well as offsetting all your essential van miles.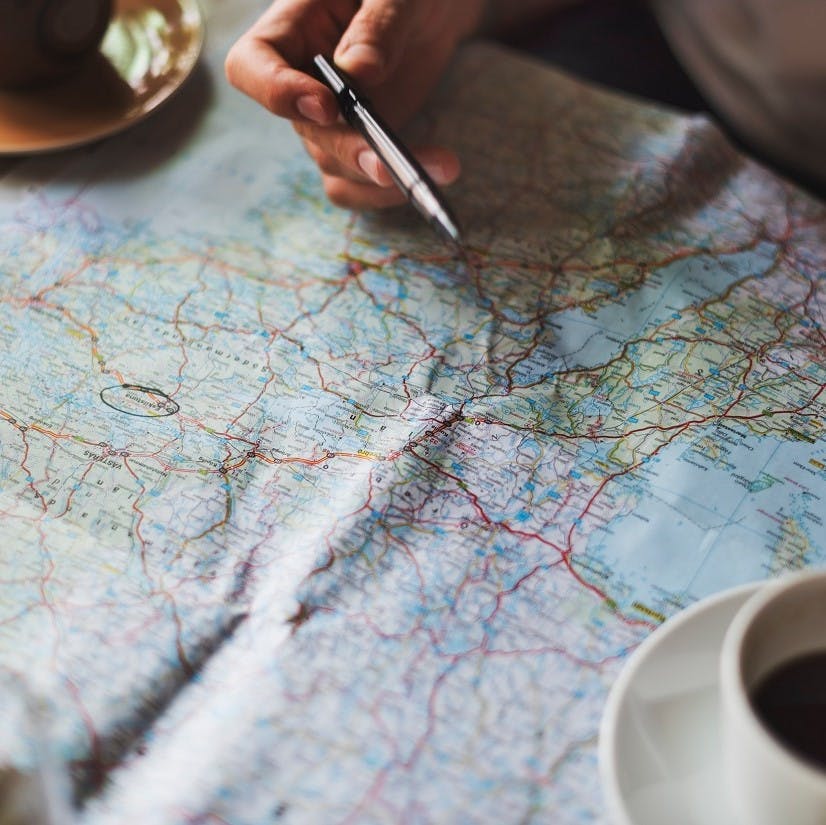 Food, Water and Essentials
We need water to survive, so having a clean and freshwater source is essential to living on the road. Buying heaps of bottled water is not doing the environment any good – or your wallet – so download the refill or tap app to find out where you can get free top up for your water bottle. For larger quantities head to campsites or petrol stations to fill up. If you're somewhere a little more remote, invest in a water filter. Water is also needed for washing so rigging up a solar shower, finding a laundrette, installing a pump action tap for your sink are all things to think about.
Follow the "seasonal, local and organic" mantra and you'll also be able to eat healthily, economically, and keep plastic packaging to a minimum. Going zero waste is the ultimate goal so finding a bulk buy store is a good shout when dry goods are needed. Thankfully there are many cropping up in towns all over the world, check out Zero Waste Near Me for your nearest or if you are passing through an address you can get a delivery from the Zero Waste Club. For all unavoidable packaging, be sure to recycle.
Finally, when roaming foreign lands, it's all too easy to forget about living sustainably. So, we've drawn up a full list of must-haves in our sustainable travel essentials guide.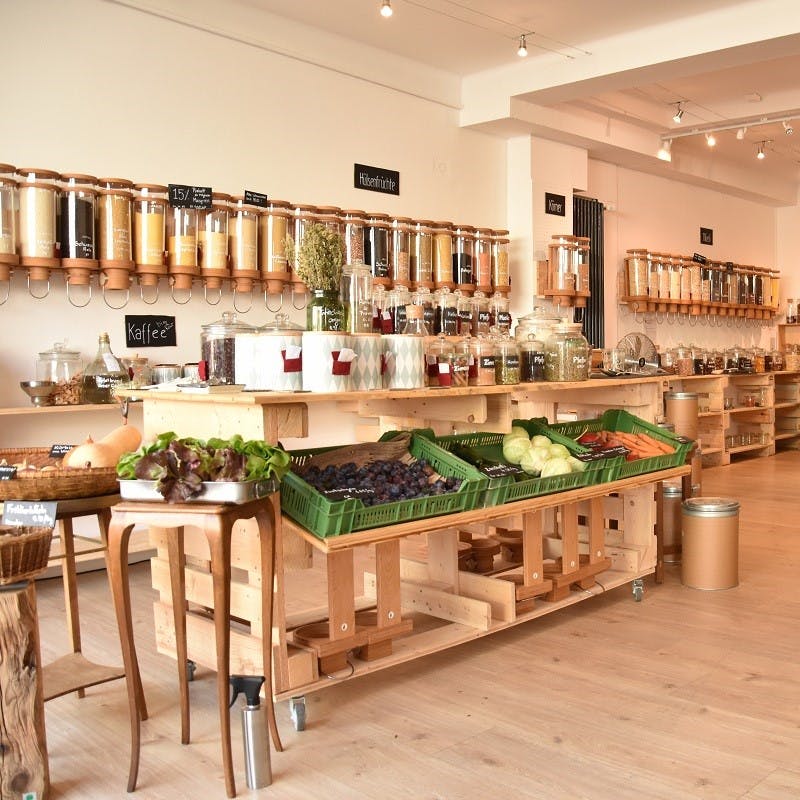 ---
Home is where you park it

Wanderlust
---
Waste
When you gotta go, you gotta go! It's the call of nature, but we'll leave it to Bear foot theory to explain, who provide an extensive guide on going to the toilet whilst on the road. If you're wild camping the van app suggests burying "humanure" in cat holes about 6-8 inches deep and 200 feet from any water sources, campsites, or trails. If you're in a more urban area and relying on public conveniences, check out the Flush app, which shows you your closest public WC.
These days you can purchase your own portable composting toilet, but a Nature's head one will set you back nearly £1000.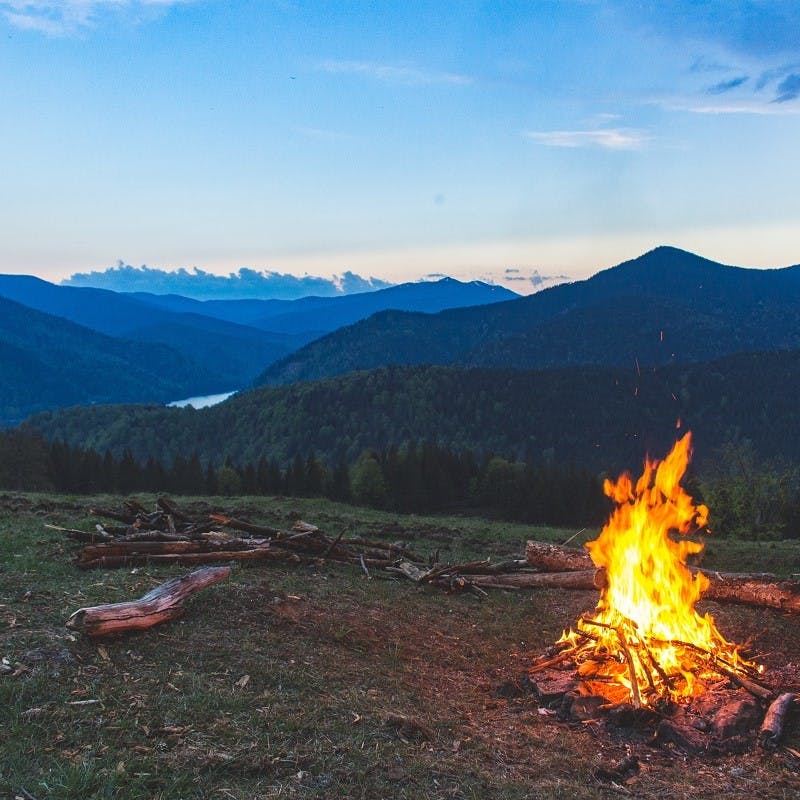 Energy
Solar is a great source for electronics – from 12v fridges to laptops; providing you're somewhere sunny of course. Having energy systems in place allows living to be thriving rather than just surviving, but keeping things minimalistic is the key. Enjoy rising with the sun, going to bed when its dark, and reconnecting with nature's circadian rhythms. Opt for watching the skies and listening to the waves, rather than other forms of entertainment. And keep sharing the good vibes by joining the responsible van movement, maintaining an eco-friendly van life, and inspiring others to do the same.
Van life is certainly one based on experiences, rather than routine, which only happens when you've cut the shackles of the daily grind, but remember to enjoy responsibly and leave the places you visit better than you found them.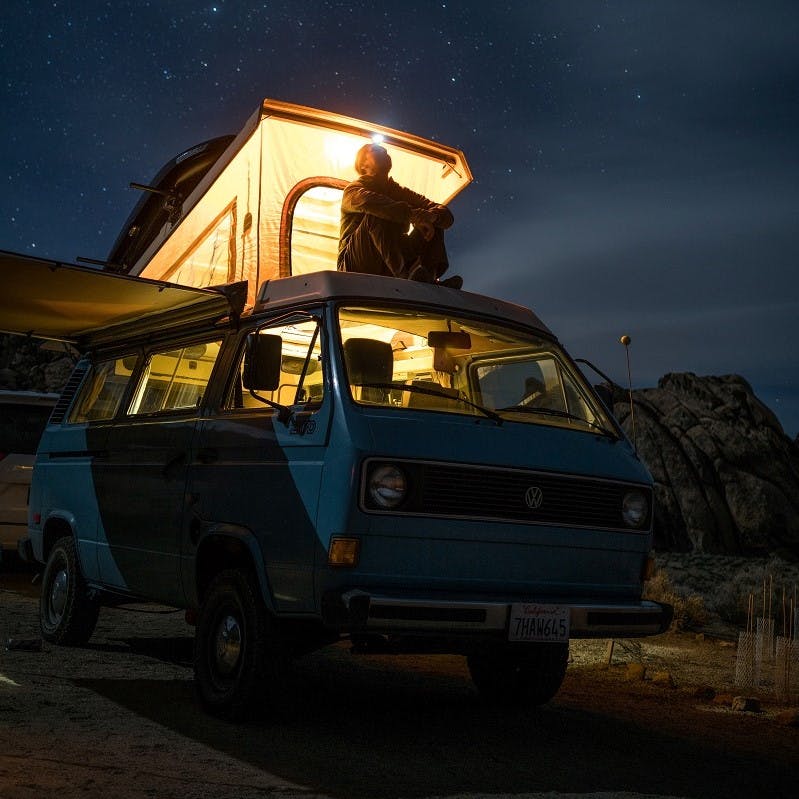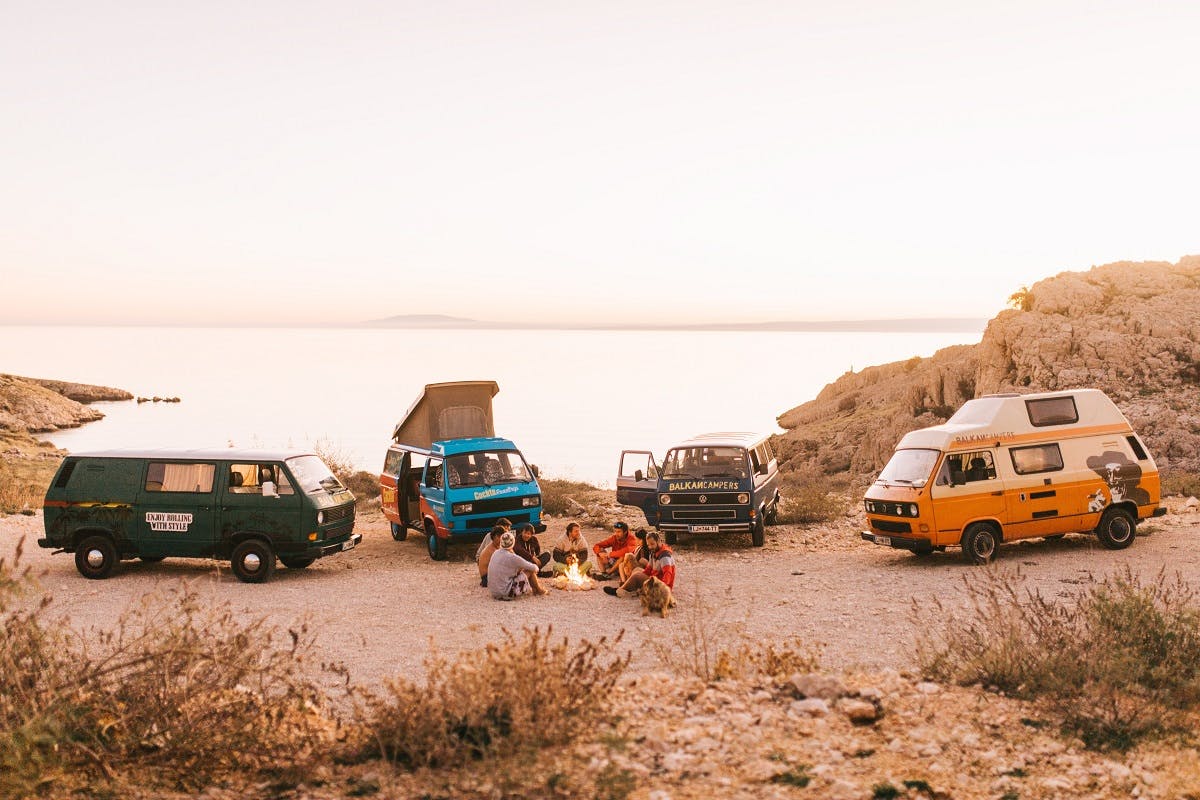 Living on the road
Vanlife can feel like a full time job in itself.  Deciding where to explore and organising the logistics of parking, sleeping, going to the loo and eating; whilst adhering to the national and local laws actually takes up a lot of time and energy.  Make sure you factor in that time and energy otherwise you'll be depleted very quickly.
If you've managed to convince your boss that you'll work better remotely, whether a van constitutes a home office is another question.  Working on the road most likely requires phone signal, internet access and power for laptop/phone - most of which will need extra planning or equipment if you're in remote locations.  Work space, depending on your type of work, needs to inspire creativity, efficiency and productivity.  An example of turning van life into a work-based project is "Two Conscious Cooks".  These van dwelling culinary geniuses share plant-based recipes that are super easy to make on the road via their instagram @twoconciouscooks, with such professional and beautiful images we expect a cookbook to hit bookshops soon.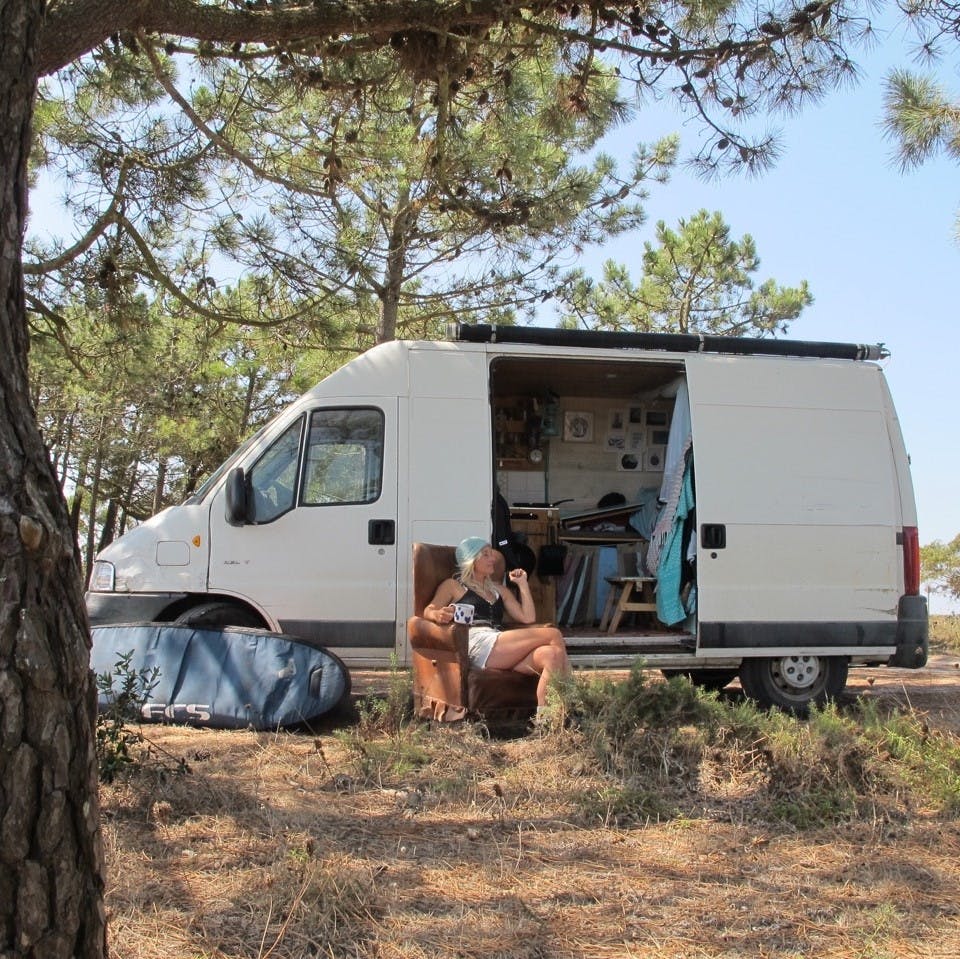 Community
Van life can be a solitary, couple or family affair but let's be honest, it's rather like glorified camping so despite how many people you have inside, you are still likely to have neighbours inside.  This requires being respectful to others and on the other hand high levels of tolerance.  
Make sure children and animals only roam free if it's safe and appropriate to do so.  Van dogs are an additional radiator for warmth and a good alarm system if they are well trained but also come with their own needs, which involve water, food and exercise.  If you decide that you're more of a cat person, don't worry because cats like vans too!  Van life veterans the Indie Projects have been travelling with their Ginger moggy since 2014.
If you're less inclined to swerve towards pet life in a van, why not revert to van plants or even kombucha as green travel buddies that require less maintenance.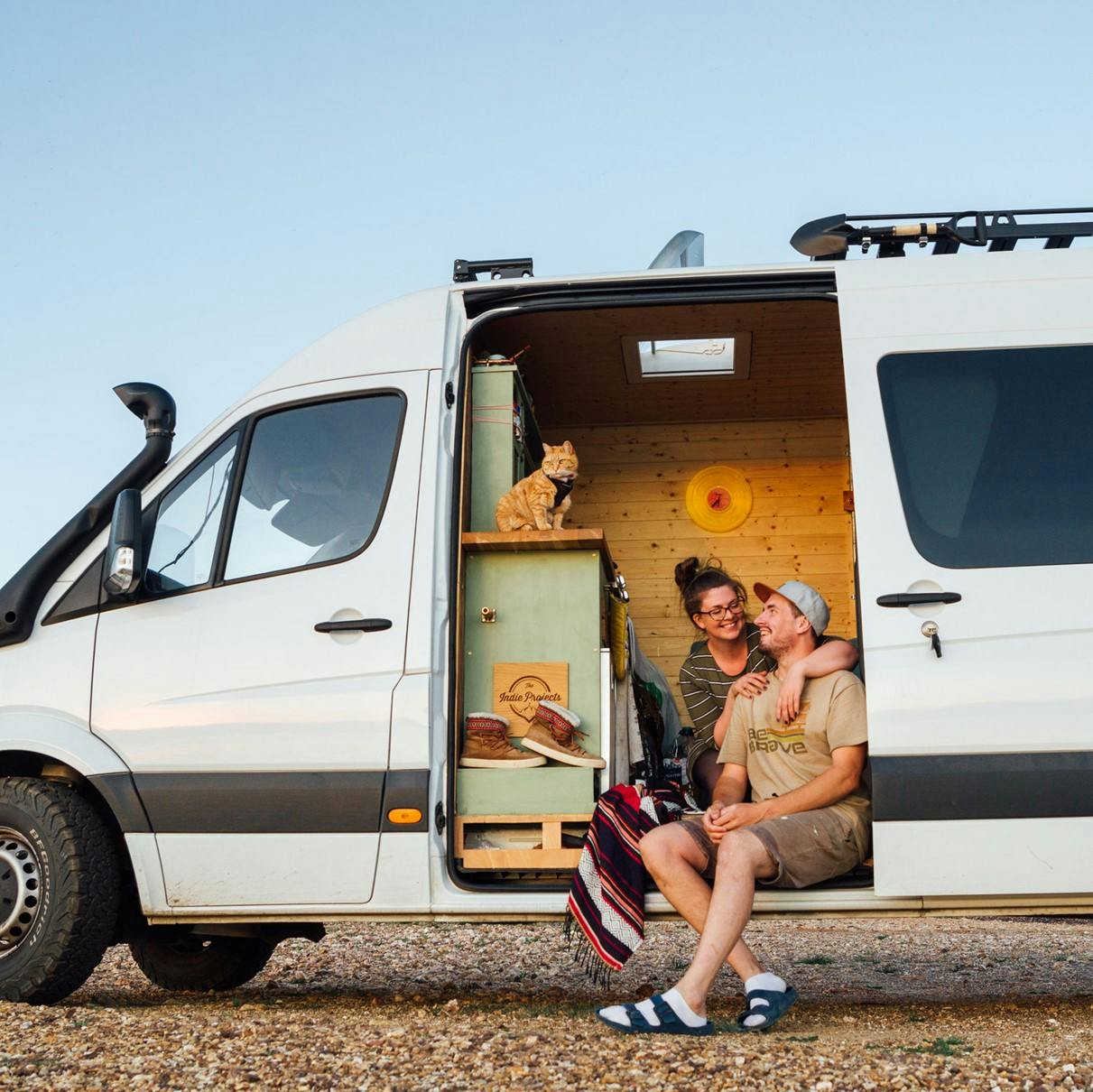 Get up to speed with the reality van life

Be clear on your intention for van life.

Consider climate, terrain, facilities, community, work, provisions, and don't just get sucked into pretty pictures on Instagram.

Ask yourself: "Why?" and "For how long?"

Start incrementally and figure out the "non negotiables".

Do the numbers for purchasing, converting and running costs.

Follow videos for DIY van conversions.

Minimise carbon footprint with an electric camper.

Adopt a zero waste approach.

Be clear on the toilet & shower situation.

Enjoy rising with the sun, going to bed when its dark, and reconnecting with nature's circadian rhythms.
Sources & further reading
"Van Life: Your Home on the Road"

- Black Dog & Leventhal Publishers

"How to live in a van and travel"

- Blue Dog Books