Support a diversity of ecosystems

Rewild habitats to bring back biodiversity

Fund neglected species & ecosystems

2. 80+% of your contribution goes on impact

3. Our biologists research and manage every project

4. Track your impact in your account and app




1
2
3
4
Sign up
in under a minute, and cancel anytime
80+% of your contribution goes on impact
Our biologists research and manage every project
Track your impact in your account and app
Transparency & Integrity

Transparency
You receive management plans, 360° photos, GPS coordinates, maps, field reports and on-the-ground videos and we also publish all our actions, costs and impact.

Scientifically informed
Our team of biologists research, implement, and monitor each project following our own rewilding protocol to maximise impact.

Easy to reach
We are always available through emails, Discord, and calls.
Learn more

Restore
wild ecosystems
Help bring back true wilderness and support biodiversity across a wide range of ecosystems and projects.
Nature is a lot more than just forests and restoring it must go well beyond simply planting trees. The work you will be funding ranges from the bottom of the sea to the mountain tops and everything in-between. This diversity in ecosystems, locations and intervention types ensures that our project portfolio is resilient and its impact long-lasting.
Our work focuses on restoring natural processes, supporting keystone species, and helping neglected species or ecosystems.
To get a feel for what we do, you can browse our projects.

Optimised for
impact
Our geographically decentralised team of biologists and project managers allows us to identify and implement actions that achieve the greatest possible impact with the funds we have available.
We have never had to narrow down on a single issue, location, ecosystem or approach and because of this, we have a bird's eye view of the rewilding space. This allows us to go beyond the question of whether a given action is worthwhile and towards the more complex one of whether it provides the best return on investment when compared to all the alternatives we could be focusing on.
To ensure we only select the best projects our team of biologists have developed our own in-depth Rewilding Impact Methodology.

Based on
results
High quality projects can only be designed with a results-based approach. This means that you need scientifically sound ideas, detailed baselines, and long term-monitoring of the outcomes.
All our projects start as a trial and only expand when we can clearly see positive results. This means that when we fail, we do so with small projects and when an idea is good, we can scale it up with full confidence.
This work naturally generates useful data for others as well, which we openly share under our conservation evidence partnership.

Stay
involved

every step of the way

We believe it is crucial for you to know what you are funding. As a member you will be able to see an in-depth breakdown of your impact. This includes:
All the different actions and project costs you have supported

A breakdown of the species and ecosystems you are helping

Project updates including blogs, on-the-ground vlogs and 360° photos

Detailed project management plans & project podcast discussions with our biologists

Beautifully designed monthly field reports & quarterly financial reports
Read more in our Trust and Transparency Methodology.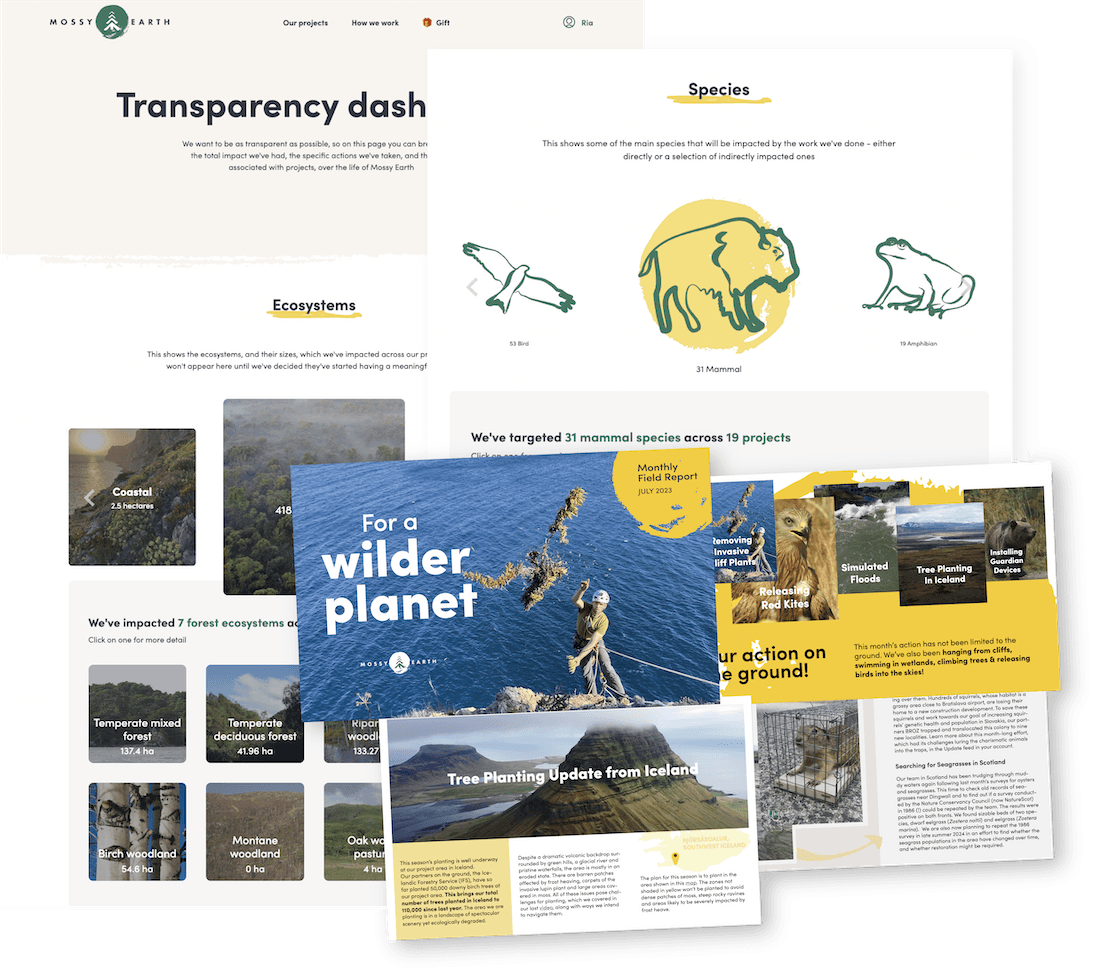 Have
your

say

We like to keep things personal, and consider our members an extension of our team, so your questions, queries, and feedback are crucial to us.

To stay in sync with our community we have developed a few ways for you to interact with us. These include:
A place to discuss new project updates in your account and get any questions answered directly by the team

A vote on important decisions related to how we operate

Regular Q&As where we answer your questions in a long 1h video

The opportunity to book a call with a team member

About Us
At Mossy Earth we are proudly bootstrapped and fiercely independent. We never took on debt, external investments or philanthropy money and because of this we never rushed things. This means we've built our organisation slowly but steadily. And we think this is one of the reasons we have attracted an amazing team that is truly passionate about bringing back wild ecosystems.
We are very proud of this wonderful group of people we have brought together. They are technical and methodical in their work and independent and reliable in their decision making. They put their all into this work and somehow still have energy to make us laugh and smile every day.
Matt & Duarte
Founders of Mossy Earth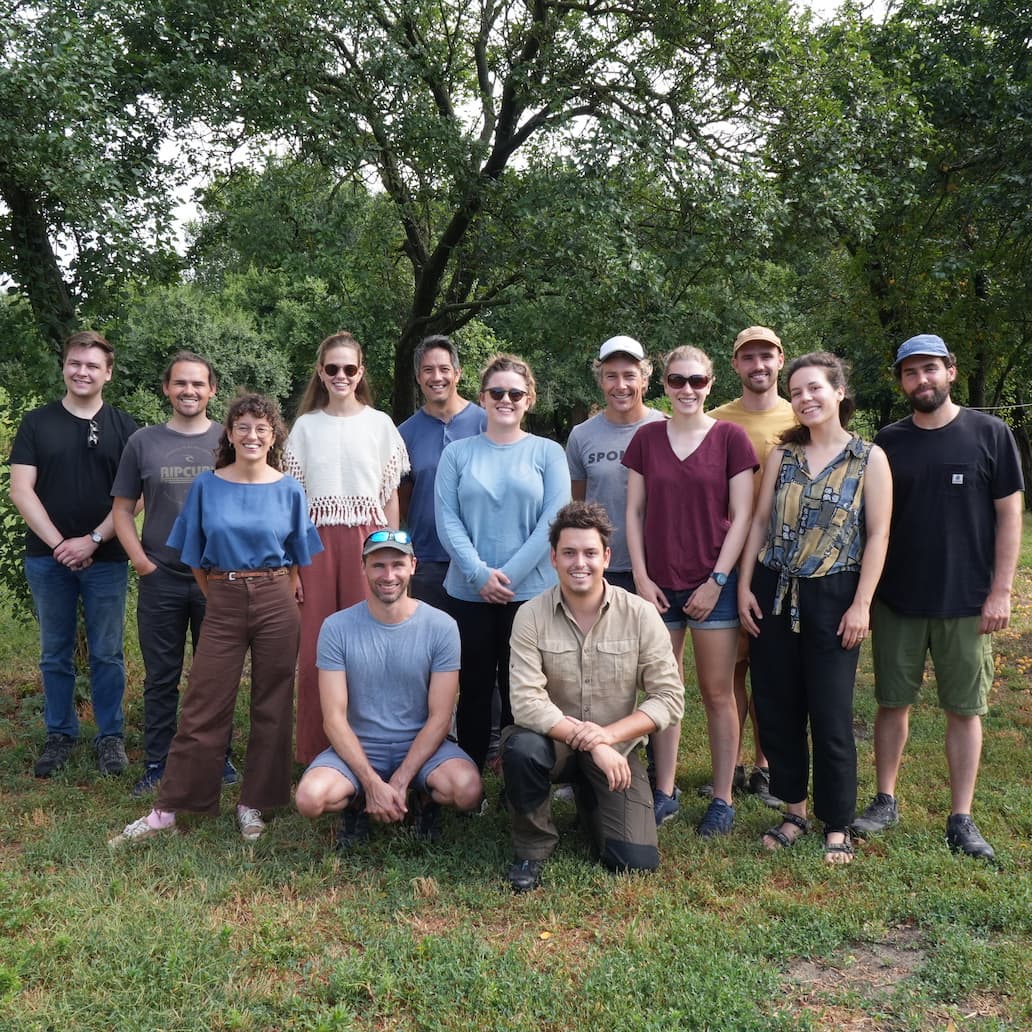 Our Rewilding Partners